Retirement sale: I've decided to retire and spend more time doing things I love to do outdoors. My wife retired in August as well. I've reduced all prices on the guns from my last shipment from Germany. There are some great bargains here. And there won't be any more coming.
Thanks to all my friends and buyers who have made this a great experience. You have gotten some fine guns and I've had fun bringing you together with them.


Note: Only 3 drillings left from this shipment out of 48 guns.. They are all very nice guns..
Drillings, combination guns, & classic shotguns.
Always a 3 day inspection, (except those marked "as-is") $45 shipping in the lower 48
I sometimes have extra sub caliber insert barrels or "einstecklaufs" for drillings and combination guns. But, I always try to have some reserved for drilling buyers. See "accessories" page for more info on these fine accessories.


"Hunting with combined Shotgun/Rifles or multi-barreled guns is a typically Continental hunting tradition, where many different types of game live in close proximity in small habitats. Combination weapons allow the hunter to collect different game with one and the same weapon. A very practical solution for hunting ranges with diverse game whose shooting seasons overlap.
From the gunmaker's point of view, the crafting of combined guns & rifles represents the highest challenge. From the individual design aimed at crafting a weapon that will be a pleasure to handle, to the conjoining of multiple barrels, the building of the inner mechanisms and last but not least the regulating and test-shooting of multiple barrels, combined weapons and multi-barrelled guns are the true test of expert craftsmanship." Johann Fanzoj Ferlach, Austria, Founded 1790
Note: See gun #513 Fanzoj drilling



Drilling makers
I get a lot of questions about who makes/made the best drillings and combination guns. There were many small makers who were good. The most popular maker in Germany where people are very discriminating with regard to these classic hunting weapons is JP Sauer. I would have to agree they are very solid, accurate and reliable guns. I also like Merkel guns and Krieghoff, though they're more expensive. The Austrians also made some fine drillings. I pretty much limited the ones I bring in to those makers. I also feel the earlier guns were better made than the current production guns that are semi-mass produced on CNC equipment with monoblocked barrels with minimal handwork and less time spent on things like barrel regulation, fit & finish. Those early guns from the 50-70's with all the handwork would be prohibitively expensive to build today. Many of those artisans have moved on to the big gun shop in the sky, taking their skills with them.

502. JP Sauer Model 3000 in the very flat shooting 7x65 rifle caliber. 16 ga shot barrels are excellent, bored M&F. Rifle bore is strong & shiny dark. The 23 1/2" barrels are fast swinging. Has A Hensoldt (Zeiss) Diatal 6x42 scope in claw mounts. Small dent in edge of outer objective ring. Optics are clear & sharp. 14 1/4" LOP over original butt plate. Barrels have @ 80% original finish. Wood has normal handling marks. All the desirable drilling features like cocking indicators, single set trigger, automatic sight pops up when rifle is selected. Good solid working drilling. Made 1962 $2565


---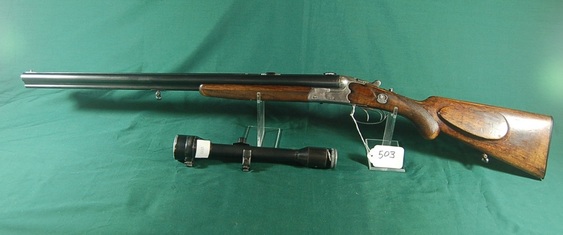 503. Austrian made "guild" drilling in 16 ga over 7x57R rifle with exellent bores. This is a working gun that was made in 1958 and was a very well made gun with bushed firing pins. The gun was restored in 1989 by R. Henneburger in Munnerstadt, Germany. Reblued barrels, and the receiver was extensively buffed, apparently to remove old pitting which signs of can be seen faintly. This is a plain working gun with great bores, in my favorite caliber and priced accordingly. It has a claw mounted, period correct, early variable German steel tube scope 2.5-8X that seems usable, but should be cleaned as there is some debris inside the lens. Wood shows a lot of wear, dings scratches etc, but seems solid checkering very worn. 14" LOP over orig horn buttplate. Barrels 25.5" bored M&F. $1495 As-is. SOLD


---

504. Franz Sodia Autrian "light" drilling 12 ga over 8X57JRS with Dural frame. Made in 1961. This is a fine example of the art with game scene engraving on the light receiver. 23.5" Barrels choked M&F. The rifle is marked 8X57R. It fits the 8x57JRS case and the barrel slugs @.322 and I don't ever recall seeing a small (318 bore) 8mm made after WWII on a drilling. Still a good idea to check it out before shooting. I love the 8x57 caliber and shoot it a lot. I was also building custom rifles in the caliber when I retired from gunmaking. It's one of the most balanced & efficient calibers ever made for any North American game. Inherently a very accurate caliber as well. The bores are excellent. Wood is a beautiful light colored European Walnut with light streaking. 13 3/4" LOP. Normal handling marks. Bushed firing pins and all the drilling features including cocking indicators, single set trigger, automatic sight pops up when rifle is selected. Very tight action lock up. There is a small dent near the muzzle on the left shotgun barrel @ the size of a BB. Has an excellent Zeiss Diavari 1.5-6X claw mounted scope with excellent optics and a bold to fine crosshair reticle. Overall, an excellent light hunting drilling. $3195 SOLD


---

505. Merkel Combination gun. Ejector gun! 16 Ga Over 7x57R. This is a "best quality Q-1" designation. I have one like this, that I hunt with a lot. It's the most accurate combo gun I've shot. Always under an inch groups with mine, This one is in very nice shape with excellent bores, shot barrel choked full, 25.5" barrels, tight action, metal retains @95% finish. Wood is nice thin finish and normal handling marks, with 14 1/4" LOP. Cocking indicators, Single set trigger for rifle. Made in July 1961. Has a claw mounted Hensoldt (Zeiss) 4x32 scope with excellent optics. A fine hunting combination, in my favorite gauge & caliber. I use a lot of special loads in the shot barrel on mine, including slugs. Also carry a sub caliber insert barrel for mine when hunting. It's probably the last gun I'd ever sell. These guns from that period are incredibly well made and will last many generations. $2795 SOLD


---

506. Merkel Combination gun. Ejector gun! 16 Ga Over 7x57R. (See #505 above) With 22 hornet stainless full length einstecklauf (insert barrel). Making it a double rifle in 2 very versatile calibers. The insert barrel is regulated at the muzzle so you can adjust it to any load and to be exactly on your main rifle barrel at any range and load. Something you can't do with conventional double rifles. Also with a tap, the insert is removed and you have a shotgun barrel again. These are very accurate setups and are fitted to the exact gun for barrel length and choke diameter. 25.5" barrels Shot bore is bright, rifle bore is shiny, and dark with strong rifling. This gun was made in Feb 1979. Stock is solid, but the old varnish is dark, deteriorated and needs replacing. See gunsmithing section for recommendations. Metal finish is @90%. LOP is 14 3/4 over an old pad which is best replaced when refinishing the stock. Set trigger for rifle barrel, cocking indicators. The gun has a claw mounted Carl Zeiss Jena 6x scope with clear optics. Not much else I can say about this very versatile classic hunting gun. Merkels are legendary for quality & workmanship. This is a "best quality Q-1" designation $3695 SOLD


---

507. Merkel 12 ga over 6.5X57R combination gun. This is a fine old Merkel in the very flat shooting 6.5 caliber. Ejector gun! 23.5" barrels, Shot bores bright, Rifle bore strong & dark shiny. This is a "best quality Q-1" designation. Wood is solid with normal handling. LOP 13 3/4" over an old pad. Set trigger for rifle, cocking indicators. Metal retains @90% original blue. Very tight action. Made 1956. Hensoldt (Zeiss) Diatal variable scope 1.5-6X in claw mounts, with excellent optics fine post & cross reticle. $2765 SOLD


---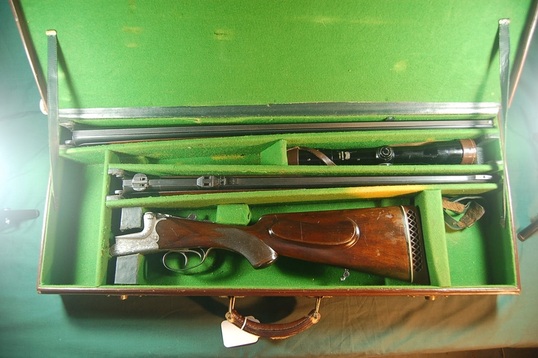 509. Merkel luxus 2 barrel set cased. 12 ga/7x65R combination gun, 12 ga over under extra barrels. Exceptional game scene engraving with a setter & pheasants on one side and ducks on the other! This is a "best quality Q-1" designation. This gun does it all. The gun was special ordered for a German gentleman in August 1957 as an OU shotgun. He then ordered the set of combination barrels fitted to it,from Krieghoff in Ulm (serial numbered to match), which were completed in July 1958. He used it on several African safaris for plains game & bird shooting. There is an area of wear on the forend from one of his safaris in Zimbabwe, where the gun rack in the land rover rubbed it. The 7x65R is a powerful flat shooting cartridge, similar to the 280. Ammunition is readily available for it. All the bores are excellent. The combo barrels are 23.5" long and the 12 ga O/U barrels are 28" & choked M&F. The combo is configured for extractor operation while the shot barrels are ejectors. This is the way my 2 barrel Merkel set is set up, and is my preference. Bluing on the combo barrels is @ 94% and the shot barrels @98%. Wood has some handling marks as well as the rub area mentioned. I would go ahead & refinish the stock & forend, which should clean up that area of "rack rash" on the forend. This fine gun definitely deserves it. The metal is fine as is. LOP 15". It has a set trigger for the rifle barrel and cocking indicators. The combo barrel is fitted with a claw mounted Hensoldt (Zeiss) Diavari 1.5-6X scope with clear optics and a tapered post & crosshair reticle. The leather covered case could use some inside cosmetic work. Due to wear and some discoloration. I would replace the felt. Additional photos sent on request. This is a very special find that will be used, treasured and admired for generations. I bought it from the old man's estate. He would never have sold it while he was alive. $5450 SOLD


---

510. JP Sauer model 3000 Drilling. 12 ga over 7X65R in @ 97% condition. Very tight action. 25" barrels. Beavertail forend. The gun is in excellent overall shape. Choked M&F. The 7x65R is a powerful flat shooting cartridge, similar to the 280. Ammunition is readily available for it. Normal handling marks in wood with a few dings on edge of the cheek. LOP 14 1/4". This gun has the rifle cocking mechanism in the rifle selector, which also actuates the automatic rear sight. Claw mounted Zeiss Diatal-Z 6x42 scope with excellent optics. This is a fine drilling suitable for any type hunting. $3475 SOLD
---
511. JP Sauer mod 3000 16 ga over 7X57R. Nice gun with 23.5" barrels choked M&F. Fast handling little drilling in my favorite gauge & caliber. An article on the 16 ga can be found on the articles page. The bores are nice, shot barrels are mirror bright with one small area ahead of the chamber in the right barrel showing a few spots. The rifle barrel shows strong rifling and a dark shiny bore. Wood shows normal handling marks LOP 14 3/8. The gun has all the great drilling features, including cocking indicators, single set trigger, & automatic sight that pops up when rifle is selected. Metal finish 90-93%. Claw mounted Hensoldt (Zeiss) diatal 6x42 scope with clear optics. Overall a very nice solid drilling made in 1961. $2760 SOLD
---

512. Merkel Drilling 16 ga, 7X65R with 5.6X52R (22 Savage HP) auxillary insert barrel (Einstecklauf). This is a very solid gun with Merkel legendary quality. The 7x65R is a powerful flat shooting cartridge, similar to the 280. Ammunition is readily available for it. Barrels 24 3/4". The 16 ga shot barrels allow for a slimmer receiver and plenty of versatility for upland game hunting. All bores are bright. Wood has normal handling marks and LOP 14 1/4" The stainless steel insert is full muzzle length in 22 Savage hi-power. An excellent caliber for varmints to eastern whitetail. The insert is adjustable from the muzzle to regulate it to the main rifle barrel with any load. Something you can't do with a regular double rifle. A very versatile hunting gun that can do it all. The insert is quickly removable with a tap to make it a double gun over a big game rifle in an instant. The insert is fitted to the exact barrel length and bore/choke diameter so they return to zero every time. Of course it has all the great drilling features, including cocking indicators, single set trigger, & automatic sight that pops up when rifle is selected. The gun comes with a claw mounted Carl Zeiss 6X42 scope with bright optics. A very hard to find, high quality classic hunting system that may be the only gun you ever need. It will be enjoyed and passed on for many generations. $4295 SOLD


---

513. Fanzoj Austrian drilling 16 ga/6.5X57R. This is a nice little Austrian drilling by a company that has been making guns since 1790.. From their website, I'd say they're getting the hang of it. :o). http://www.fanzoj.com/en/home/index.html Check out their specialty guns.. Amazing. This gun is a fine example, with nice game scene engraving and nice bores. 23.5" barrels , wood has normal handling marks and LOP of 14 1/4". All the right features, it has the great drilling features, including single set trigger, & automatic sight that pops up when rifle is selected. This gun was made for sale through a German gun store so doesn't have the Fanzoj name, but has their workmanship, and design, engraving quality and mark. Maker was also identified as Fanzoj on the German weapons permit. I also love the straight comb on this gun! It has quality workmanship including bushed firing pins and exceptional lock up. Austrian and German proof marks. Comes with a claw mounted Hensoldt (Zeiss) Diavari 4X32 scope with bright optics. $3095


---

515. JP Sauer Drilling 3000. 16 ga, over 7X57R. A solid little drilling in my favorite ga & cal. 23.5" barrels, Shot bores bright, rifle dark strong & shiny. Very solid gun. Metal @80% orig finish. Wood has normal handling marks. Made in 1960. LOP 13 3/4" Has all the great drilling features, including cocking indicators, single set trigger, & automatic sight that pops up when rifle is selected. It comes with a Hensoldt (Zeiss) Diavari 1.5-6X claw mounted scope with tapered post & crosshair reticle. Nice clear optics. $2750


---

516. JP Sauer Drilling 16 ga over 7X57R. A nice gun with @85% metal finish, nice bores and all the great features you want: has all the great drilling features, including cocking indicators, single set trigger, & automatic sight that pops up when rifle is selected. 23.5" barrels LOP 14.5". There is a 1" area of blue wear over the right chamber (probably from carrying). Wood has light handling marks. The gun comes with a 6X42 Zeiss Jena scope in claw mounts, with clear optics. This gun has an unusual item mounted under the forend. It's a small lever with notches that I was told was to hold a palm rest for offhand shooting. It's inletted into the forend and could be easily removed and the slot filled wth a piece of wood. I've never seen one before. $2295 SOLD


---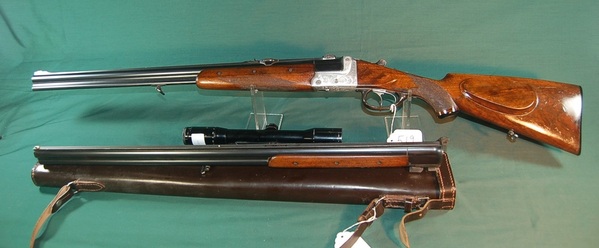 519. Kriegoff light combination gun, 2 barrel set with extractors. Single greener type crossbolt lockup for easy extraction. Krieghoff thought of everything. In a word: Sweet!. This is a great 2 barrel set with a lightweight dural receiver, beautiful game scene engraving and world famous Krieghoff craftsmanship. In my favorite gauge & caliber: 16 ga 7X57R combo, and a set of 28" 16 ga O/U barrels for the clays and wingshooting. All wear surfaces are steel, and the firing pins are bushed. Very tight lock up. Extra O/U shotgun barrels have a leather case. Buffalo horn trigger guard. Barrels on the combination set are 25" and on the O/U 16 ga, 28" Blueing 97 & 98%. This Gun weighs @6# on my postal scale. There is an inconspicuous professional repair of the wood where a sliver was replaced on the bottom forward near the tang. Hard to see up close. This gun was made in Sept. 1962, and is in amazing condition for it's age. It comes with a Hensoldt (Zeiss) 1.5-6X variable scope in claw mounts. Clear optics. When I picked this gun up and mounted it, it felt like a part of me and I set it aside to keep, but after considering it, it's so close to my Merkel set, it's hard to justify, so I'm listing it. It will be that gun you will keep forever and pass on to your kids and they to theirs. $4275 SOLD


---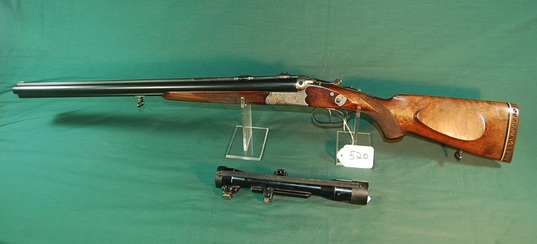 520. JP Sauer Drilling mod 3000 16 ga over 7X57R. Fast swinging 23.5" barrels choked M&F. Shot barrels bright, Rifle shiny dark with strong rifling. The model 3000 was thge first drilling to have hammer forged rifle barrels and rust preventive in the recess between the barrels. Nice figure in the wood. Barrels @ 97% wood has light handling marks. LOP 13 3/4" over pad. Hensoldt (zeiss) 4X scope in claw mounts. Clear optics with crosshair dot reticle. Tight action. Nice solid Sauer drilling made in 1961. It has all the great drilling features, including cocking indicators, single set trigger, & automatic sight that pops up when rifle is selected. $2650 SOLD


---

521. JP Sauer Drilling mod 3000 16 ga over 7X57R. 25.5" barrels choked M&F. Shot barrels bright, Rifle shiny dark with strong rifling. Metal & wood @ 90%. 14" LOP. It has all the great drilling features, including cocking indicators, single set trigger, & automatic sight that pops up when rifle is selected. Tight gun. Claw mounted Karl Kaps Wetzler German scope 4X with clear optics. Finish wear on the scope tube objective ring (easy touch up with aluminum black). Made 1959. Nice drilling for those like me who like a little longer sight radius. 2275.00 SOLD

---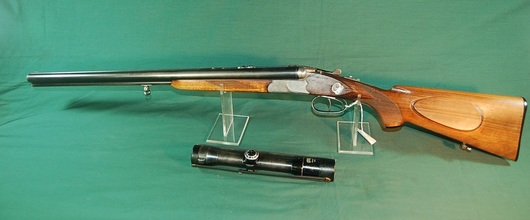 522. JP Sauer drilling model 3000 16 ga over 6,5X57R. This is a foresters gun (Germnan gamekeeper) who carried it for many years in his duties patrolling the property of his employer. As such it has quite a lot of finish wear, especially around the barrels in the forend area. I bought the gun from his granddaughter. The finish wear is something that would be easy to improve with some Brownells Ospho blue. Or even have the barrels re-blued. The upside is the gun was very well maintained and has pivot type mounts installed that can use low scopes. This gun was restocked by Sauer in the 80's. Still has the original forend. 23.5" barrels. The 6.5X57r is a very flat shooting caliber. Metal is @ 80% blue. LOP is 14 1/2" over original butt plate. It has all the great drilling features, including cocking indicators, single set trigger, & automatic sight that pops up when rifle is selected. Hensoldt early steel tube 4X scope in pivot mounts. Made 1955. Interesting old drilling that would have some stories to tell and a lot more to witness in the generations to come. $2295 SOLD
---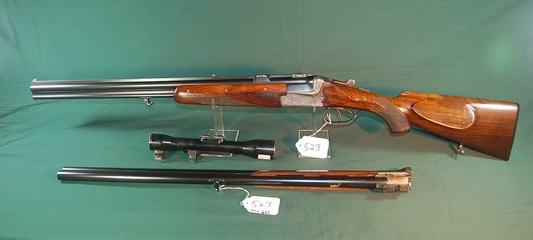 523. Merkel Combination gun 2 barrel set: 12 gauge 7x57R, and 12 ga O/U extra barrels. Ejector gun! Best Quality "Q1" marked. These are the top of the line guns that received even more careful detail and precision than their normal levels. Often they were special order guns. The combination barrels are 25.5" long and the O/U 12 ga barrels are 28" See my article on the advantages of double triggers over single in the articles section. Shotgun bores mirror bright, rifle bore shiny dark and strong rifling. Barrels 97% blue. Very tight lock up. Stock has handling marks and some dings around the receiver. This gun deserves a stock finish anyway and much, if not all, of that could be removed at that time. LOP 14.5" Claw mounted Carl Zeiss Jena scope with clear optics some finish missing from scope tube. The Gun was made in Apr 1983. An excellent all around gun with world famous Merkel quality. $4295 SOLD


---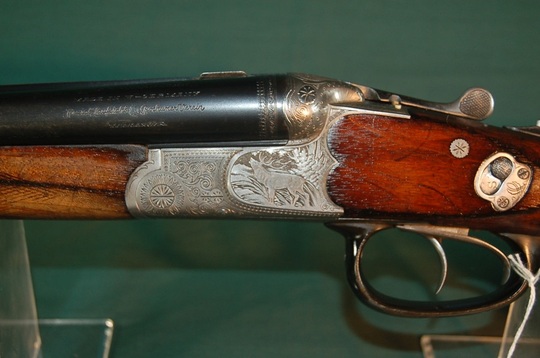 530. JP Sauer "Luxus" drilling model 3000. 16 ga over 6.5X57R. This is a nicely game scene engraved Sauer with tight action, quick handling 23.5" barrels choked M&F. Shotgun bores are mirror, rifle strong rifling, shiny & dark. It has all the great drilling features, including cocking indicators, single set trigger, & automatic sight that pops up when rifle is selected. Nice figure in wood with numerous handling marks, that should clean up nicely with a stock refinish. LOP 13 5/8 over old hard pad. Metal is @90%. Buffalo horn trigger guard. Right shot extractor notched for installation of a subcaliber insert barrel "einstecklauf" see accessories page. In case you ever wanted to use one. Older German "Nickel variable scope 4-10X in Krieghoff style QD Tapered dovetail mounts. Older period Period scope with very clear optics. Made in 1961. This is a lovely old classic, high grade Sauer, that would be absolutely beautiful with a little cosmetics. But a fine gun, as it is. $3175. SOLD

---

#483 JP Sauer drilling Model 3000 12 ga over 30/06 This gun is in 99% metal condition with some handling marks in the wood, including a few dings around the front of the comb. . Mechanically it is like new and barely broken in. The model 3000 is the first drilling made with a hammer forged rifle barrel. Excellent bores, 2 3/4" chambers, choked Full & Mod. 25" barrels. 14.5" LOP. This is a great example of the ultimate European all around hunting gun. All the features like the automatic rear sight that pops up when the rifle is selected, cocking indicators, single set trigger for the rifle barrel. Light, tasteful scroll engraving. The gun comes with a high quality Zeiss Diavari 6x42 scope, mounted in QD claw mounts with classic German post & cross reticle. Beavertail forend. This is a great all around precision hunting gun for those hunts where you are likely to encounter different game. This one is in exceptional condition with an amazing scope and is ready for the field or a round of sporting clays. The vernerable 30/06 needs no introduction. And you can buy ammo at Walmart (in an absolute emergency :). $4450 SOLD
---

#480 A very nice JP Sauer 12 gauge drilling over the powerful 7x65R rifle caliber. It also has a fitted full length insert barrel in 22 Hornet. This gun is like new mechanically, Hardly broken in yet. Bores are perfect, Choked F&M. 25" barrels. It is fitted with claw mounts and a Very high quality Hertel & Reuss variable scope 2,75-10X with tapered post and cross hair reticle. These scopes are renowned for quality and at least equal to Zeiss. The insert is adjustable from the muzzle with the included allen wrench. This is the perfect "double rifle" because you regulate the barrels to the same point of impact for whatever ammo you are using. The insert taps out for instant upland or sporting clays shooting. A truly all around gun in outstanding condition. The 7x65 is adequate for anything you will find in N. America and is about like the 280 in ballistics. Readily available ammo, this round is extremely popular in Europe, being termed the "all around caliber". Beavertail forend. LOP 14.5 over orig butt plate. Contact me for additional photos of this very nice Sauer drilling. $4675 SOLD
---

#479 A very nice JP Sauer model 3000 Drilling in my favorite gauge 16 over the classic favorite 7x57R. This gun is @ 96% wood & metal. Extremely well maintained gun. Excellent bores. Handy 23.5" barrels choked F&M . This gun has a Hensoldt (Zeiss) variable 1.5-6X scope with clear optics and tapered post & cross reticle. In QD very solid claw mounts. A few finish chips around the objective bell where the scope covers went on & off. Has a raised initial of the original owner apparently glued onto the grip cap, which should be easy to remove. Or leave it on for history :o). LOP 14 3/8" $2975 SOLD
---

475. JP Sauer mod 54 Combination gun in 16 ga over my favorite caliber, 7x57R. Nice bores, 25.5" barrels, 65cm. 14" LOP over pachmayer pad. Has a high quality, late model Schmidt & Bender scope in claw mounts. 6x42 with coated optics & post reticle. A very nice all round hunting combination. $2275 SOLD
---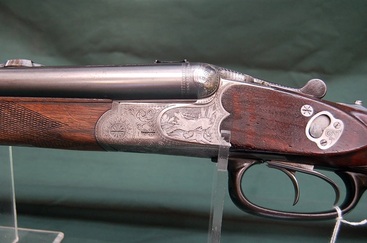 471. Beautiful J. P. Sauer Deluxe Drilling, 16 ga over 7x57R Has a fitted Krieghoff LONG 44cm insert barrel (einstecklauf) in 22 WMR. See Accessories section for info on these. This gun is in very nice condition with @93% orig blue on barrels, exc bores. Handy fast swinging 23.5" (60 cm) barrels. 14.5" LOP, High grade figured wood. Nice gan\me scene engraving with Stag on left side, Roe deer on right and Grouse on bottom of action with nature background. Great part of this gun is the installed swivel base European style scope bases. The rigs are available from several suppliers like NECG and require no fitting! Beautiful, versatile gun that can do it all. Additional photos on request. $3500 with insert, 3150 without. SOLD
---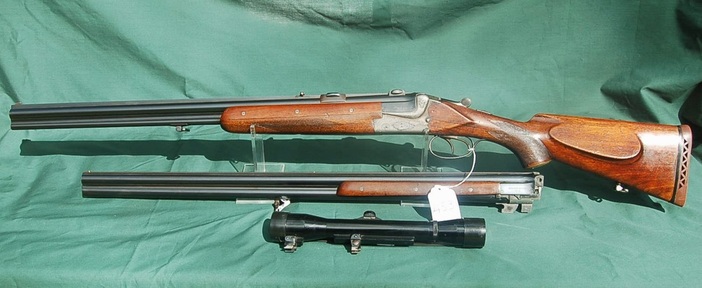 453.Merkel Combination gun 16 ga & 7x57R and O/U 16 ga. This is a beautiful example of the German gunmakers art, in a very versatile set. Made in December of 1961. The gun has a set of combination barrels with a 16 ga full choked barrel over a 7x57R rifle 25.5" long. This is a "Best quality" gun with the Q1 designation. Ejectors, cocking indicators. A set of properly serial numbered shotgun barrels in 16/16 ga. 28" long, Also with ejectors. Chokes appear to be Improved Cyl or light modified & full. The front trigger is a single set trigger that is adjustable. Light tasteful scroll engraving. The Merkel Brothers are renowned for quality & dependability and this combination is ideal for almost any game. The combo set has a claw mounted German Geco 4x36 scope with post & crosshair reticle, & clear optics. Has a hammered brass grip cap with initials that could easily be polished out if the new owner wants. Or left in as a reminder of the original owner who obviously had many wonderful memories carrying this gun. The 16 gauge is my favorite gauge. It can be loaded up to mid 12 ga levels for larger game like turkey & geese or down to 20 gauge level for light upland or clay birds. The venerable 7x57 needs no introduction and is a fine big game cartridge all over the world. There are articles on calibers & the 16 gauge on my website: classicsportingguns.com . I have a set exactly like this one which has become my favorite hunting gun for everything from deer & hogs to dove and sporting clays. I also prefer double triggers for reasons outlined in an article on this site. My Merkel is also one of the best shooting combo guns I've ever shot. Always an inch or less. I'm currently using 120 gr, TSX bullets in it and have taken a lot of game with them. Not much else I can say about this gun. All bores are bright, wood is nice with quite a few handling marks. All should easily come out with a refinish which should be done when the new pad it fitted to the owner. LOP is 14 1/2 over an old pad, that should be replaced when setting the gun up for it's permanent owner. Barrels have @ 97% original bluing. Some old hardened oil on the reciever area that can be removed with solvent. This gun was sitting in a safe in Germany for many years. It was used for hunting stag, boar and birds by it's owner, prior to him being too old to hunt. It was purchased from his estate. This is a rare opportunity to own an incredibly versatile high quality set of shooting instruments. Mine is probably the last gun I would ever part with. $4500 SOLD
---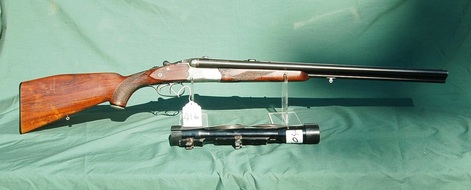 416. JP Sauer 16 gauge over 7x57R drilling in excellent condition. I've never seen one of this vintage in this nice shape overall. Action is tight as new, finish is 90%. Made in 1962.Fast swinging 23 3/4" barrels, LOP 14 1/4" In my favorite caliber & gauge. This gun looks and feels like it had very little use. Has a claw mounted Zeiss Variable 1.5-6X scope. Choked mod & full. Has a silver engraved cap on the original grip cap, otherwise completely original. A fine drilling that will do it all!
$2995 SOLD
---

309. JP Sauer Luxus drilling 16 gauge x 6.5X57R. Nice drilling with exc bores & @80% blue. Buffalo horn trigger guard with a worn area on one side. Nice game scene engraving. 60 CM barrels, choked M&F. Claw mounted Hensoldt (Zeiss) Diatal 4X scope with traditional German post type reticle. This is a very nice drilling in a very interesting caliber! $2995 SOLD
---