Retirement sale: I've decided to retire and spend more time doing things I love to do outdoors. My wife retired in August as well. I've reduced all prices on the guns from my last shipment from Germany. There are some great bargains here. And there won't be any more coming.
Thanks to all my friends and buyers who have made this a great experience. You have gotten some fine guns and I've had fun bringing you together with them.
Classic Target Pistols (Sold out, sorry)
These are finely crafted vintage target pistols that have great triggers, superb accuracy and reliability, and wonderful workmanship. Shipping of short guns in the lower 48 is $25 to your FFL, priority. Most are imported from Germany, even the US made guns, and will carry German proofs, and my import mark as inconspicuously placed as possible. I usually have additional pics of them, so contact me if you are interested and I'll email you what I have and answer your questions. All bores excellent unless otherwise noted in descriptions. If you're looking for something you don't see, give me a shout. I often have some that are not listed here.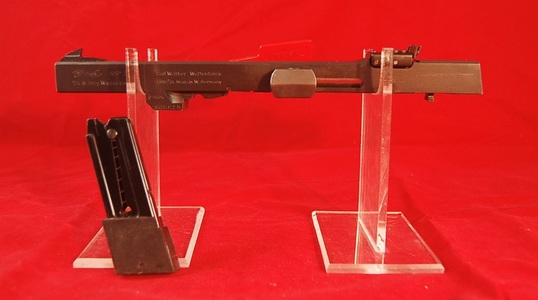 011. Walther GSP 32 S+W wadcutter conversion system & magazine. Converts your GSP to centerfire in about a minute, so you have the same grip, trigger, balance & feel for both events. These are extremely accurate. I shot my best ever score with the 32 on my GSP (879/900 37x). Comes with one magazine. This one is 96% + showing very little use. $625 & 20 shpg in lower 48. SOLD


---

012. Browning Medalist auxillary barrel 4.5" (also fits early Challenger etc.) Extremely hard to find these. Great for using your favorite target pistol for plinking around the woods. Exc bore. Small area of bluing splotch on top near back (see pics). $340


---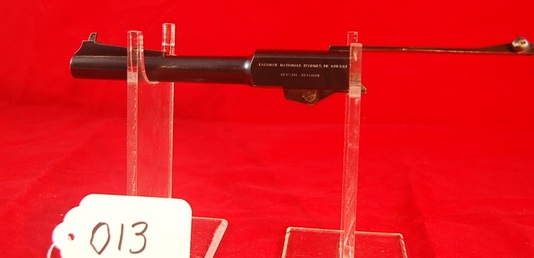 013. Browning Medalist auxillary barrel 6" (also fits early Challenger etc.) Extremely hard to find these. Great for using your favorite target pistol for plinking around the woods. Exc bore. $340


---
Note on these NF Browning international Medalists. These were originally sold in Germany and may be so proofed. They were the target pistol of choice for a short time in the 70's. the German target shooters always had to have the very latest guns. As a result some of these had very few rounds through them and have been sitting in safes for 40+ years. I imported them from there. They are getting much harder to find and these are the last I'll be getting. My German bird dogs looked very hard to find these.. In this condition. All come with one original magazine & excellent bores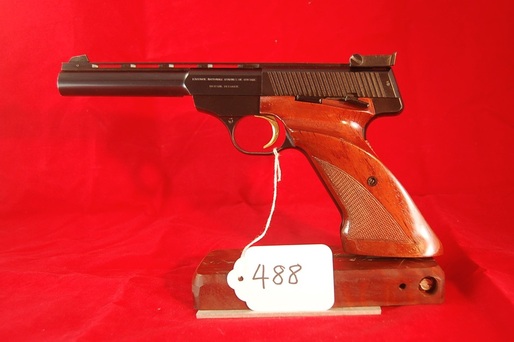 488. Browning FN, International Medalist. Made in Belgium. Also called the model 150. These are the target models, made with the slightly shorter 5.9" barrel to comply with international competition rules. They are well known for their precision, accuracy and crisp triggers that have a dry fire practice feature built in. I have several of these from shooters to collectors. Priced accordingly. This one is a very nice gun @98% finish. Very little sign of use. These guns are a joy to own and shoot and will appreciate in value. They don't make them anywhere close to these anymore. Take care of this gun, shoot and enjoy it and you will pass it down to your kids and they to theirs. Excellent bore. This one also comes with a fitted case and some cleaning accessories. Made in 1972 $895 SOLD


---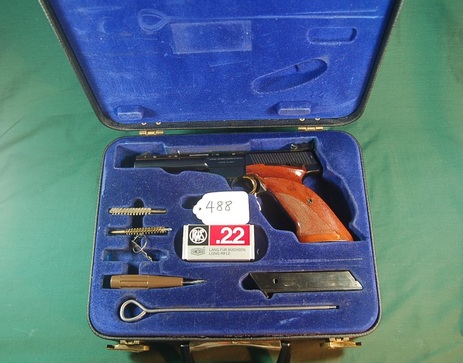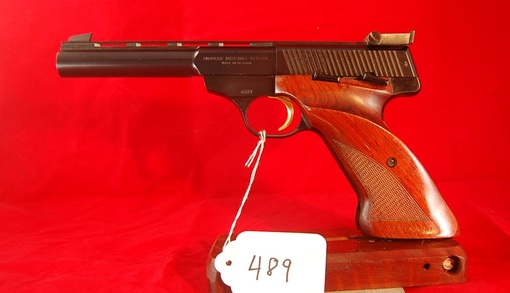 489. Another nice Browning International medalist. This one is @ 96% with some wear on the grip near the thumb rest and a very light name scratched in the finish at the left bottom of the grip. Probably could be buffed out or even sanded and touched up. Made in 1972. $695 SOLD


---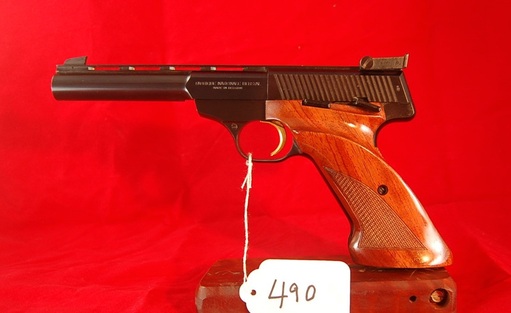 490. This FN Browning International Medalist looks almost like new! Definitely a collector quality gun. 99% gun. Made in 1972. $1060 SOLD


---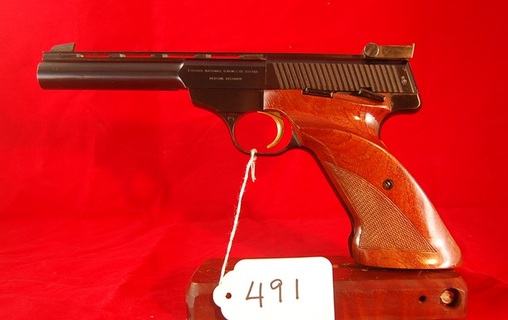 491. Another FN Browning International Medalist. This one is @ 96% with some light scratches on the right side of barrel. Most would disappear with a q-tip and some good cold blue like Brownells Oxpho. Made in 1970, $675 SOLD

---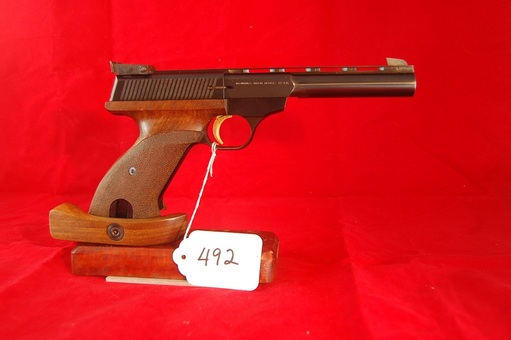 492. Browning International Medalist mode; 150 with the later adjustable factory grips. This was about the last year for these: 1975. It has the best of both worlds with the better quality and finish of the Medalist (over the later flat sided Medalist II) and the adjustable grips. These are (IMO) the most comfortable and steady factory grips ever made. This gun is in very nice condition showing very light use @ 96-7% overall. $795 SOLD

---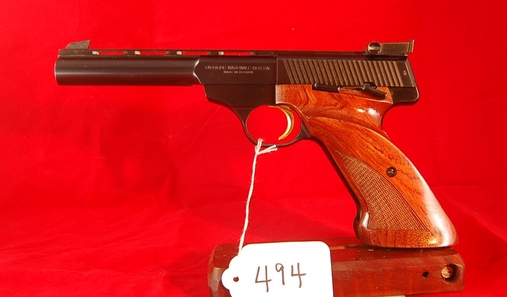 494. Browning International Medalist in very nice shape @ 98% a small scratch on the left grip near the bolt release. Otherwise very little sign of use on this gun. Made 1972 $795 SOLD


---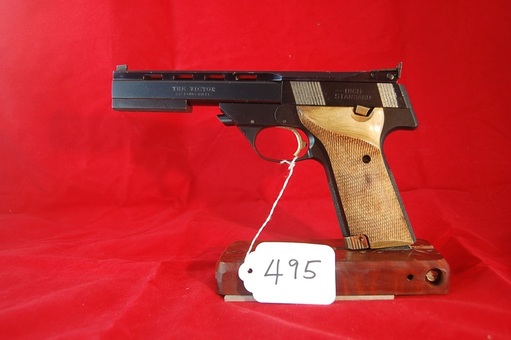 495. Hi Standard Victor. These guns are legendary for their accuracy and glass like triggers. They are still used by competition shooters around the country. This one is in very nice shape with no wear on the grip frame, indication very light use. @96% overall exc bore. Has a small firing pin dimple on the breech face, but no burr in chamber. I ran a match reamer in to make sure and the chamber is perfect. Made in E. Hartford, CT $695 SOLD


---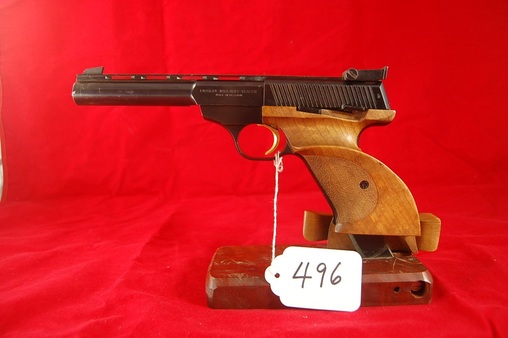 496. This is a good, shooter grade, FN Browning International Medalist 150, with the optional adjustable factory grips. About 90% metal finsish with some areas of blue wear on barrel, apparently from barrel weight. I may have a barrel weight I can furnish for this gun. Very solid tight gun at a great price. Excellent for international competition. Made 1972 $575 SOLD


---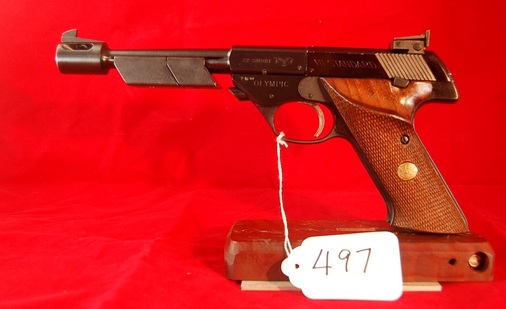 497. Hi Standard Olympic model 102 cal 22 short. A classic collector gun and hard to find in nice shape like this one. These guns are great fun to shoot with super triggers and low muzzle rise with the compensator for rapid fire. I have a lot of 22 short ammo extra I can let the buyer have at a good price. This gun has no finish wear on the grip frame and is 96%+ overall. A small chip out of the bottom of one grip you can see in the pics. One original magazine. $695 SOLD


---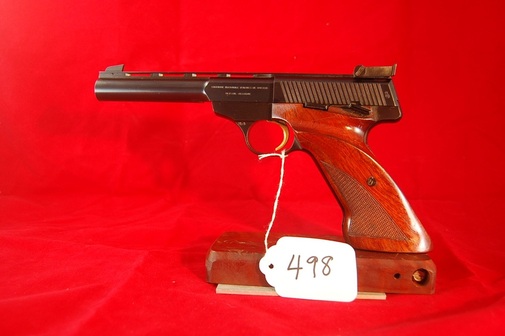 498. FN Browning International Medalist. A nice solid medalist with some muzzle area wear 94-5% overall. Made 1969 $575 SOLD


---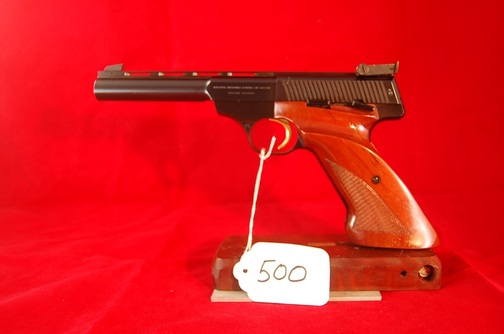 500. Another very nice 98% collector quality Browning International Medalist. Excellent condition overall with very little sign of use. $855 SOLD


---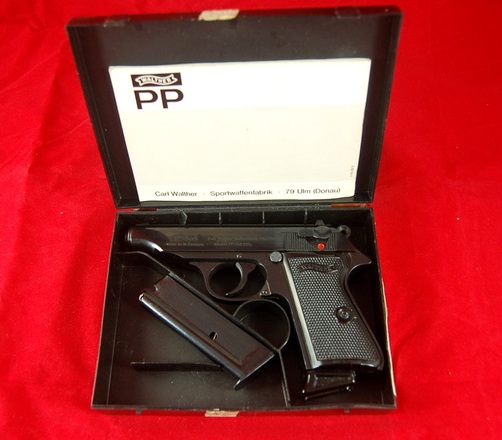 501. Walther PP 22LR in box with Papers and both compact & finger grip magazines. Also has the small take down tool. This gun looks absolutely mint. I never rate a gun at 100% unless I break the factory seal on the box myself, but this gun is about as close as I've seen. 99+%. The PP is my favorite of the small pistols. With the slightly longer barrel than the PPK-S, it holds and shoots better with no sacrifice in carry size to speak of. Definitely a collector gun that is a blast to shoot. I carry a PP 22 in the woods scouting a lot and shoot it often. My Concealed carry gun is a PP 380. This gun was made in 1972 and has that wonderful fit & finish of the old time gunmakers. A true joy to own. $850 SOLD
---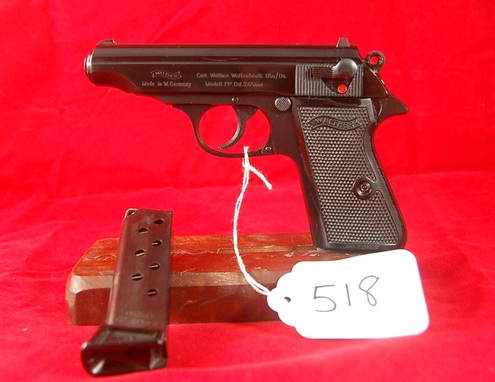 518. Walther PP 7.65 (32 ACP). A super nice example of the old German pistol making craftsmanship. This gun is 99% with box but no papers. The PP is my favorite of the small pistols. I have a 22 & my carry gun is a 380 PP. They're easier to shoot well with that tad more barrel, but the size & weight isn't a factor. This gun was made in 73 and is all original & correct. Comes with one original finger grip magazine. I have an extra magazine, like new, made by Manhurin the buyer can have with it for $35. This is a collector quality gun. $695 SOLD
---
---