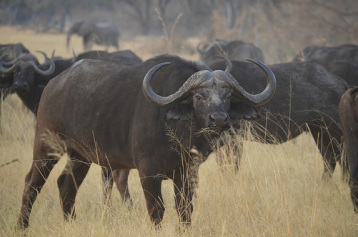 Robert Ruark said, a Cape Buffalo looks at you like you owe him money.





---
Classic Sporting Guns
By: Greg Sefton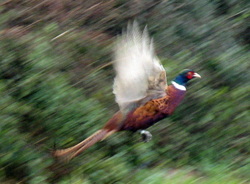 Dedicated to those beautiful old Drillings, Combination guns, Bolt action sporting rifles, Double guns & Classic competition guns.

This site is devoted to the classic guns, made by the master gunmakers of the world: Those who have passed on to the big gun shop in the sky, as well as the precious few still crafting one-of-a-kind examples of the gunmaker's art.

I won't post a lot of dead critters and smiling hunters here. Though there will be some. There are plenty of sites on the web overflowing with "dead fish & cheesecake", or commonly called "grip & grin" photos. Not that there's anything wrong with them. There was a time when I judged the quality of a hunt by the weight of my gamebag, but that was about half a century ago.

As a gunsmith for over 40 years, now retired, I developed a profound appreciation for those fine old guns; their fit, function, workmanship, balance, accuracy, beauty and dependability. And yes, even their embellishment, which should always be secondary in a gun.

I won't put a lot of pictures of fancy engraving on here, but will occasionally. Not that I have anything against beautifully adorned guns, but this site is more about substance than style. There are a lot of pics of high end guns on the web that we can all enjoy.

During my gunsmithing career, I also nurtured an ever increasing disdain for the ugly, mass produced guns, made with aluminum, sheet metal, castings, stampings, and plastic. They look like they were finished with pea gravel, and have triggers designed by lawyers. The main objective in designing & building the newer guns is cutting costs. While some of these guns might shoot well enough new, they have little chance of longevity or adoration. In short, they lack the class, workmanship & quality of the guns made one at a time, lovingly and precisely, that will be enjoyed and passed on for generations. If God had intended man to have plastic stocks, he'd have planted plastic trees.

I have hunted with drillings for close to half a century. My wife also has a 20 gauge Kerner drilling that she treasures. I now import these guns from Europe. Some will be offered here for sale.

For a while, I was an outdoor writer and have been a competition shooter for 50 years in various disciplines, including skeet, trap, sporting clays, bullseye pistol and muzzle loading rifle & pistol. As a competitor & gunsmith, the redeeming aspects of the old classic guns are their workmanship, accuracy, handling, utility, durability and beauty.

We will discuss some of those traits here. We will also honor those smiths & tinkerer's who resurrect fine old guns, which were victims of abuse or neglect, to usable status. I will be glad to offer advice on those restorations & repairs, of which I've done many.

I have some definite ideas which were gleaned from a lifetime working on, collecting, shooting and enjoying these guns. I will pass them on to the readers of this site, along with useful information on accouterments, loading information, history, maintenance and modifications, and other things that might enhance the enjoyment of others, similarly afflicted, with a love of fine sporting arms. You may not agree with those ideas, and I appreciate your expression of differing ones. That's how we all learn and grow in our sport. Opinions are like... well you know.. Everyone has one..

I appreciate any input from my fellow enthusiasts regarding content you would like to see on this site. I will also try to answer any questions I can regarding these guns.

I must acknowledge appreciation to those craftsmen, artisans and gunmakers who took me under their tutelage so many years ago. They were willing expend the time & patience to pass on skills and knowledge that had taken them a lifetime to glean. I was a young sponge soaking it up. That experience, along with what I've learned along the road, has served me well, and enhanced my work and pleasure. Thank you all. I will try to do the same for some young aspiring gun enthusiast. These things should be passed on to succeeding generations, to keep the sport alive & preserve the knowledge.
---
My wife's Emil Kerner drilling in 20 gauge over 6.5X58R Sauer. Nice balance of background & game scene work. Note rotary cocking indicator.
What is a drilling?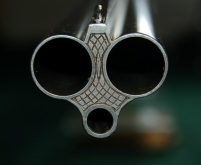 To many of you, this might be a little rudimentary, but for those unfamiliar with these most versatile & interesting hunting guns, I'll give a brief description. The word "drilling" is German for 3 barrelled gun (from the German word "dri" or "three") There are also 4 barreled guns called "vierlings", but we'll cover them in a later article. Drilling configuration can be almost any combination of rifles & shotguns. I've seen drillings with 3 shotgun barrels & others with 3 rifle barrels. But the ordinary configuration, for these extraordinary guns, is a combination of shot & ball firing barrels. There are double rifle drillings (doppelbuschedrilling) with 2 rifle barrels of the same caliber over a single shotgun. There are some with a larger rifle, a small caliber rifle, and a shotgun barrel; usually stacked vertically and called a "bockdrilling". But the most common, and I believe the most versatile, version is the standard drilling, with 2 shotgun barrels over a single rifle. My preference for these is simply that a single shot rifle is all that is needed for most game, but a single shotgun barrel leaves a lot to be desired when wingshooting. There are insert barrels available for one (or both) of the shotgun barrels to greatly increase the versatility. These are usually small caliber and can be short or muzzle length. Rimfires are most popular, but centerfire calibers, like 22 hornet, are also available as are larger calibers that match the drilling's rifle caliber. I have at least one rimfire insert, also called "einstecklauf", for each of my drillings. I prefer the rimfires in 22LR, but many drilling owners like them in 22 magnum. The better einstecklaufs can be regulated to point of aim, as the shooter prefers. I zero my 22LR inserts to the scope or sights, at 25 yards. I always keep a short one in my hunting pack, and often do some small game hunting after a morning hunting deer, hogs or turkey.


---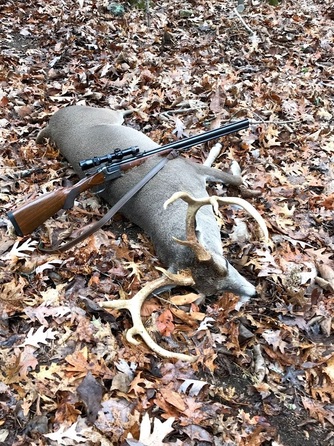 Nice Buck in TN, with the Merkel 7x57R, Combo gun this year.
---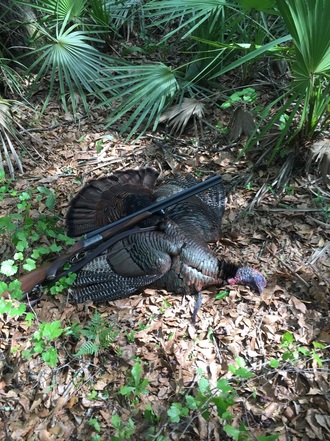 Killed both my Osceolas this year with my old "Turkey Drilling" A 12 bore, over 8X57JR, 24" barrels F&F. It was special ordered by a German SS high ranking officer in 1943 from JP Sauer. Delivered in Jan 1944. I got it from his estate. All their production was dedicated to the war effort and only a privileged few could buy a sporting gun.
---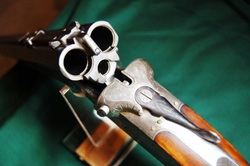 Buying a used drilling or combination gun.

My experience goes back longer than I care to recall, of people buying these old guns because they were "cool", with little research or even access to good advice. Some of those "bargain" guns wound up costing the owners thousands more, due to missed problems or deliberately hidden ones. Often the sellers are no more qualified to evaluate the true condition of these guns than the prospective buyer.

A few rules to minimize problems:

Rule 1: Buy from someone who knows these guns and how they function, inside & out. Collectors often know makers names & history, outward attributes and characteristics of their work, even some basics of design. But often they have never worked on the guns and don't have a working knowledge of the "guts" or things that can be real problems. That said, it's often not so much a matter of deception, but more of ignorance.

Rule 2. Buy from someone who will give you an accurate description, warts & all. There may be things that you can live with. Like blue wear, replaced sights, repairs to the stock etc., But you need to know these things to make an intelligent decision.

Rule 3. Buy with a return privilege. Pictures & descriptions are nice, but no substitute for a close up inspection, and/or evaluation by your gunsmith.

Remember Grampa's first rule of life: "If it seems too good to be true...."

Other than those, you should do your homework. That drilling or combination gun will likely become an heirloom; an investment, that you will hunt with, shoot targets with, enjoy owning, and eventually pass on to your heirs and to theirs. It will increase in value, as they simply are not making them like that anymore. Read up on the gun(s) and try to understand the fine points of their designs, the various makers, values, and virtues.


A good book on the subject is: "The Drilling" By Norbert Klups. There are a few mistakes in the book, most of which are probably due to translation, as the book was originally published in German. There are also a few things in it that conflict with my experience with these guns, but overall, an excellent book. Be sure to wear a bib. Drooling over the photographs will cause some page damage.. :o).

The internet has a lot of information... and even more misinformation. There is a vast amount of knowledge & information on the web.. Of course, much of it is just half-vast. Sometimes reading posts on guns has me just shaking my head. Those posters remind me of my old professor. He was often wrong... but seldom in doubt. The sad part is that the misinformation is perpetuated by people who think it is (must be) accurate and it becomes pervasive; therefore accepted as fact.


"It ain't ignorance so much as folks knowin' a lot that just ain't so" Josh Billings

"An abundance of information can exacerbate ignorance, if the information is of poor quality" Tom Robbins


A drilling or combination gun in good shape, will likely go for generations without need of repair, if maintained properly. But, like any precision instrument, it is very unforgiving of abuse or neglect. A little careful and accurate research will be returned in spades, and enhance the satisfaction & value of your purchase.

Some observations on "condition"

Bores. Pretty bores are nice to have, but less than perfect ones can greatly reduce the price of these guns, without really hurting their accuracy. My old guild (no maker's name) hammer drilling in 9.3X72R has a very rough bore, but shoots great: usually an inch or so at 50 yards with open sights.

Wood.... will usually show some use. Most of the time it can be refinished easily, removing most handling marks. If it is done right, keeping the sharp edges sharp and not altering the shape, it doesn't hurt value, and greatly improves the appearance and protection of the wood. Cracks, and even breaks can be repaired with modern epoxy adhesives and proper techniques & reenforcement, which I will cover later in an article on stock repair & refinishing. Checkering can be re-done reasonably and match the original shape & line spacing. Length of pull can be altered to match the shooter. Cast off can be changed easily by stock bending. I like straight stocks and have all mine bent to suit my shooting style. I used to do this myself, but now have a man who does excellent work, very reasonably.

Exterior metal surfaces. Many of these guns had color case hardened receivers and blued barrels. Barrels can easily be rust blued and the receivers can be re-colored, but the latter can be expensive. Personally, some wear to those surfaces gives a gun some character and I leave mine alone if it's not much under 50% of original barrel finish. A bright or "coin" finish on a receiver is attractive to me. It's a personal thing. Pitting on the outside, can sometimes be draw filed prior to re-bluing barrels. Shallow old pitting is found on many of the German guns. When it was obvious Germany was losing the war, some of the soldiers wrote their wives, telling them to hide their guns from the Americans. Many didn't know to slather them with grease prior to burying or stashing in hiding places. I've seen some guns that had once been magnificent, reduced to scrap metal, due to poor storage.




---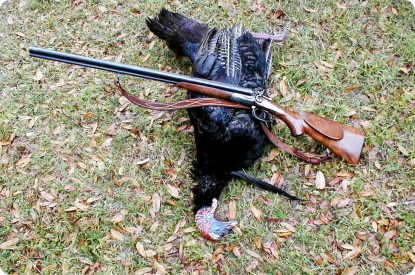 Gauges & calibers:

These can be important factors to some. I happen to love the 16 gauge. I have 7 of them in various types. It's the perfect gauge. You can load it up to light to medium 12 gauge loads, and down to 20 gauge with ease. It's small enough to make slim receivers, but plenty powerful for any small game. I've killed many turkeys with my 16 gauge guns. I have a short piece on the "sweet sixteen" on the articles page.

12 gauge drillings are less common in the older guns, but are available. They are a little more bulky, but that's the price for putting more shot into the air. A little more weight as well. The 20 gauge drillings were special order guns in most cases, and are much harder to find in the early guns. My wife, Eliz, has a beautiful Emil Kerner & Son, 20 Gauge, over 6.5X58R, boxlock drilling. There were some 28's made and even .410's, but they are scarce and expensive.

Rifle calibers can be light 22 centerfires up to large bore 11mm. 22 Savage Hi-Power (5.6X52R) was a popular caliber for Roe deer in Europe. The predominant caliber in early drillings and combo guns was the venerable 9.3X72R. I like the caliber and have harvested a lot of deer & hogs wih mine here in north Florida. Many of the later guns were 7 & 8mm X 57. My favorite drilling & combo gun caliber is the 7x57R. I also like the 8x57JR (.318 bore) & JRS (.323 bore). It is a very efficient, accurate & versatile caliber, that I chambered rifles for, when other makers were calling it "obsolete". There were some 6.5 calibers in various cases. The 6.5X58R Sauer is astraight taper case, and is similar to the 25/35 in power & ballistics. The 6.5X52R is exactly the same cartridge as our fine old 25/35 Winchester. Although I've found some in that caliber to have tight chambers when using the US ammo, but that's a simple problem to overcome. The 6.5X57R is a very different case, being a flat shooting caliber that, with the right bullets, is adequate for anything in the US. Brass & ammo availability might be a factor in some of the less common calibers, but understand that, with loading dies and a couple hundred rounds of brass, you can probably do several decades of hunting & shooting. Almost any caliber can be bought or formed. An excellent book on case forming is "The Home Guide to Cartridge Conversions" By George Nonte. See "books" area of the site " Also see article on hunting calibers, in "articles" section.


Embellishment: engraving, carving, fancy checkering etc. I put this last in features because, to me, it's last in importance; all things being equal. Like anyone, I love to see fine engraving, game scenes or scrolls, oak leaves, border work etc. on a gun. But too often that wows people into buying a gun with problems or shortcomings, or even a gun that is less suited to their needs. They later regret placing those things higher on the priority list. Much of the engraving, especially game scene work on the lower to mid range guns is not high quality. Some can live happily with that. To me, mediocre engraving is worse than no engraving, or just light scrolls & borders. One of my gunsmithing mentors was a fine engraver and I tried to learn the art, but finally gave up. It did make me recognize & appreciate the good stuff though. It is truly an art form. The real beauty of these guns goes much deeper than the "skin".

"Gunsmith specials": I run across some of these drillings or combo guns that are obviously in need of help. These can be real bargains for the handy person with some basic skills & tools, who is short of cash, but always wanted a drilling. This, of course, depends on what the problems are. Wood damage is probably the most manageable malady on these guns, followed by metal finish. The most challenging problems are mechanical damage, barrel or rib damage (other than dents, which are easy to have removed) and missing parts. I've seen guns that, in nice shape, would have gone for several thousand dollars, bought for a third of that. And with a few hours elbow grease, turned into fine looking & using drillings. I usually have one or two of these "fixer uppers" available.

Greg

"The older I get, the more I like old stuff: old guns, old boats, old cars, old dogs, old mules, old music... Heck, I even like old women" I said that.

In life, every man deserves a good woman, a good dog and a good gun. Though not necessarily in that order.

The beauty of a drilling, that you do everything with, is that it becomes like a your old dog; like a part of you. It may be the only gun you ever need..
"Beware of the man with one gun. He likely knows how to use it well."

Guns for sale: I always have some nice classic drillings, combination guns, Rimfire & centerfire hunting & target rifles & pistols for sale. Also often have some classic double shotguns. If you don't see what you need here, let me know and I'll see what I have, here, or in the "pipeline".

---

Making your own claw mount rings. See "Gunsmithing & Maintenance" page
---
Take your wife hunting & fishing. Fall in love all over again!