This page is for comments, feedback etc, from customers, readers and enthusiasts.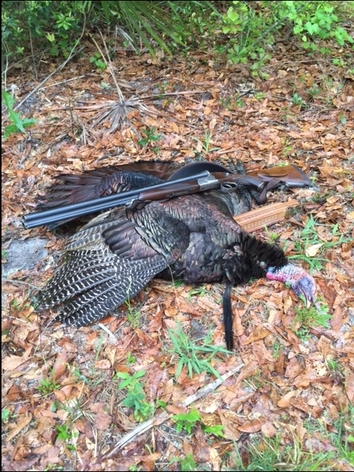 My "Nazi" drilling and one of my 2015 birds. A Sauer short barrelled (60 cm) drilling in 12 ga over 8x57JR choked full & full. This gun was ordered by a high level SS Officer in 1943 and delivered in January, 1944. An open sight drilling: It has no scope or mounts. I love the round bottom Sauers. I've hunted turkey with this gun among others for the past few years. I also use it as a "camp' gun, that's always handy around camp for defense or putting a little meat on the fire. It also has a cartridge trap, or "schaftmagazin".. You can never have too many drillings :o)






Someone suggested I put a comments page on the site, so here it is. Some of the comments are from Gunbroker where I sell a few guns.
---
Comments:
The Colt OMM arrived. I am impressed! I was not expecting it to be that nice..........



That pre 58 Annie shoots as good as she looks!!
Thanks, mike

I was able to pick up the 54 today and I must say that it is excellent !!!! Much nicer then in the pictures, real nice bluing and a real nice piece of Walnut !!! I'm very happy with it and can't thank you enough.

The rifle came yesterday and the paperwork is complete. The rifle is very nice and everything you said it was.

Greg, Just picked up the Walther PP and it is everything I hoped it would be. You are a great seller and I am lucky to have purchased it from you. Thank you so much for everything. Best regards, Rich

Just a note to let you know that the 54 match I got from you will shoot lights out...We had my clubs 22 informal match to day, cloudy and wind around 10 mph. Temps in the 60's.I shot a 298, which I was trilled with, now to get more X's.

Oh my gosh what a beautiful, light, functional gun. (Sauer drilling) Holy cow, it is amazing. We received it this afternoon along with the news that we welcomed a new grandson into the world today. Thank you for the piece of functional history. It feels so comfortable in my hands like it's always been there. Also Thank you for the patron saint of hunters (on the ammo wallet) that will watch over me. (Hubertus) Take care, Brandy.

A+: Happy beyond words on the rifle! Excellent seller and I have no qualms about buying from him again.

A+: Absolutely one of the best if not the best transaction and person to buy from. Gun was exactly as described. An excellent seller.

A+: I can't say enough good things about Greg. The gun showed up in pristine condition, better even than the way it was described. Fast easy transaction A++++++ Buy with confidence!!!!!

A+: Responded to questions very quickly and shipped promptly. Very professional- gun exactly as advertised and a very reasonable price- would definitely deal with this person again.

Great guy to deal with, been one of my best experience's yet on GB. I would not hesitate for a second to do business with him again in the future!!!!!!!!!

Thanks ! Now I Know why I've heard "The Old Sako's are the best short actions made!" This is one beautiful Rifle. Thanks Again Greg.............. Warren

This Seller is: A+A+A+A+, and credit to the type of sellers that all buyers would hope to have transactions and dealing with......Also, this seller was very helpful above and beyond the actual sale...

Great gun, easy purchase. I'd definately purchase from Brayhaven again.

Top marks. Better that described and a fast, professional transaction.

Great communication. Rapid and efficient shipping. Easy transaction. Rifle even better than described. Very helpful and courteous seller. Plan to buy here again!

This man is what makes Gunbroker a great place to do business. Excellent communication, fair prices and great customer service!

Said this item was 98% - My FFL & I put it at 99% - GREAT DEAL

Superb quality pistol, fast shipping and great communications, thanks so very very much, A+++++++++ in every way

Another great rifle delivered...this one is still zeroed in and a great shooter!!

Absolutely fabulous pistol. Speedy delivery. Easy transaction. A great buy. 100% satisfied!!!