Classic Rimfire Sporting Rifles (sold out, sorry)
These are the timeless, high quality rimfire rifles, that will become part of your family, passed down for generations, enjoyed and cherished. Shipping is $45 to your FFL with a 3 day non-firing inspection, unless specified "as is". I have others that are not listed here. If you don't see what you want, please ask. All bores exc. unless specified otherwise. Additional photos available. Thanks!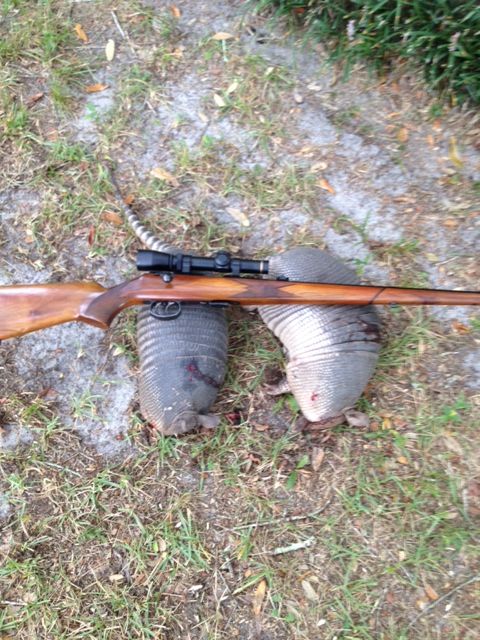 My "go to" rifle around the farm is a 1418 22lr. A long time favorite. Shown here with a couple armadillos that were digging under the foundation and tearing up the garden.

514. Anschutz 1516 22 magnum. This is a "working rifle" with signs of use 75% metal finish and @ 60% wood condition with numerous handling marks. Excellent bore. Highly desirable double set triggers! LOP 14 1/4" Bbl 22" A fine shooter at a great price. A day refinishing the wood would make it look nice as well. $595 SOLD


---

517, Anschutz model 54 sporter. 22LR. This is a very early gun, probably mid 50's. no date on it. Pre model 1420. 2 stage trigger. 23" barrel with exc bore and integral front sight ramp. 3 leaf rear sight 50-75-100 meters. Metal retains @95% finish. The wood is nice with a few light handling marks 14 1/4" LOP. These guns are legendary for their precision and accuracy. IMO, the "Annie 54" is the finest rimfire action ever made. They claim it has the worlds fastest lock time and I believe it. This would make a great rifle for light sporter competition. Very hard to find in this shape. $1070 SOLD


---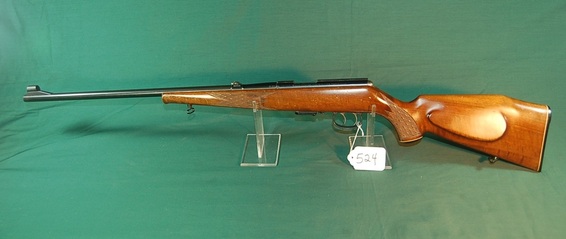 524. Anschutz model 1516 22 WMR, This is a nice Annie magnum with @ 93% bluing, some light scratches on side of barrel that would diminish with a little cold blue. Stock has some handling marks & a few dings. Excellent bore. Folding rear sight. 22" barrel, LOP 14" Double Set Triggers! Folding rear sight. Made in 1968. Looks better than I did at 49. $740 SOLD

---

526. Anschutz model 1516 22 WMR. Nice gun with 22.5" barrel. Excellent bore. 96% wood & metal . Year code HI. LOP 14". Double Set Triggers! $845 SOLD
---
527. Anschutz model 1422 22LR sporter Model 54 action. Double Set Triggers! Bbl 24" LOP 14 1/4". Excellent bore. Made in 1977. Many people (myself included) think this is the best 22 sporter ever made. The 54 action is, I believe, the finest rimfire action ever made. Factory drilled for either bases or dovetailed for 11mm type rings. Rollover type cheek, fancy wood grip cap. Metal is @ 97%, wood @96%. Everyone deserves one truly fine 22 rifle in their life. I have 2 54 actioned sporters that are a joy to own and shoot. $1355 SOLD


---

528. Mauser 98 manlicher stocked sporter. Germans call them "Stutzens". I've always loved full stocked rifles. This one is chambered for 7x64, the rimless version of the 7X65R. Ammo is available from the major suppliers. It's a very good round comparable to the 280. Claw mount bases on this gun are removable if you wanted to put conventional scope mounts on it. Barrel is 20.5". LOP is 13.5 over Pachmayr pad. Double set triggers. Greener type side safety. Wood has normal handling marks. Made Sept 1957. Metal finish is @92%. Nice bore. 2 leaf rear sight for 100 & 200 meters. A nice classic European sporting rifle. $795 SOLD


---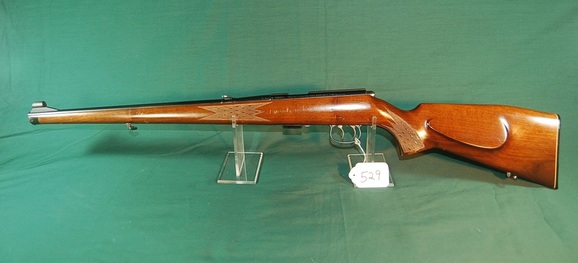 529. Anschutz model 1418 22lr full stock "Stutzen". I love these guns. This one was made in 1972 and has excellent bore. About 96% metal finish and @92% wood with some handling marks and a few dings. Some finish missing from the horn forend tip. Folding rear sight. Double Set Triggers! Bbl 19.5" LOP 14 1/4". Not much else to say about it. A beautiful little Annie Stutzen. They're getting hard to find in nice shape. $1150 SOLD

---

531. Last one of these I will be getting in. I'm retiring this year. Anschutz model 1515-16 22 WMR. Nice rifle with @ 96% metal finish and 93% wood. Some handling marks including a ding in the right checkering on forend. 22.5" Bbl, 14 1/4" LOP Excellent bore. Made 1977 $785 SOLD

---